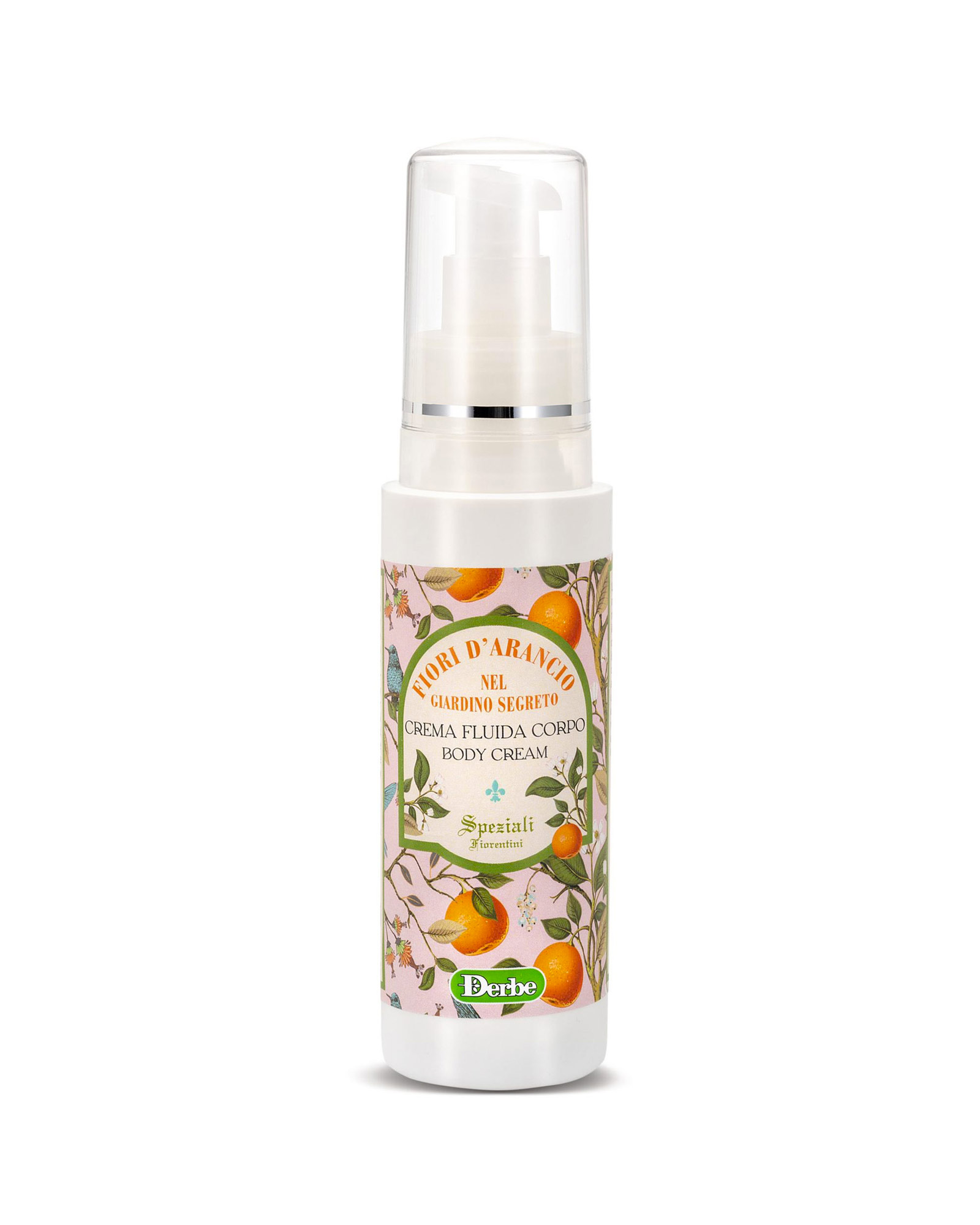 Orange Blossom Fluid Cream
In the secret garden
125ML
€ 18.00
A light and velvety cream to deeply nourish the skin, leaving it delicately scented.
Description

The emulsifying system that was used to make the cream is an innovative system that allows for long-term hydration to be released, even many hours after applying the preparation to the skin. This system makes it possible to obtain non-comedogenic creams (which do not clog the pores of the skin), reducing the greasy effect. It is the result of the combination of jojoba oil derivatives and beeswax. Leaves the skin perfectly free to breathe and does not make it sweat.
What's in it
Shea butter: rich in moisturizing agents and vitamins that offer protection to the skin. Shea butter is ideal for dehydrated skin as it helps restore the right degree of hydration and elasticity. Maintains the hydro-lipid film of the epidermis and protects it by providing a lasting source of hydration. It has emollient, anti-wrinkle, anti-stretch mark, anti-inflammatory, anti-aging, calming and after-sun properties.
Vitamin E: this vitamin is considered essential for the elasticity of the skin and the stability of biological membranes, especially those containing higher amounts of polyunsaturated fatty acids. It has been demonstrated that Vitamin E acetate is absorbed through the skin, which has a protective effect on the skin and contributes to the reduction of water loss through perspiration. Vitamin E as an anti-oxidant reduces or slows down the formation of strongly oxidizing molecules; it is believed that this Vitamin helps to keep the connective tissue in optimal condition.
Jojoba esters: Jojoba oil is a liquid wax at room temperature which has marvelous properties elasticising, emollient and protective properties that make the skin smooth and silky. Jojoba oil revitalizes, regenerates and soothes irritated skin, strengthens it and prevents wrinkles. Its ease of absorption and the great ability to penetrate through the pores, gives it an excellent moisturizing action.
Orange blossom water
Neroli essential oil
Dedicate 5 minutes of your time to regenerate your body by starting to apply the cream from your feet, moving up your legs with circular movements, continuing up to your shoulders without forgetting your neck. The warmth of your body will release its floral richness and you will carry the secret of orange blossom with you all day long!
Aqua [Water], Dicaprylyl ether, Glycerin, Polyglyceryl-6 distearate, Butyrospermum parkii (Shea) butter, Citrus aurantium amara (Bitter orange) flower water, Parfum [Fragrance], Microcrystalline cellulose, Dicaprylyl carbonate, Olus oil [Vegetable (Olus) oil], Benzyl alcohol, Jojoba esters, Cetyl alcohol, Polyglyceryl-3 beeswax, Cellulose gum, Allantoin, Tocopheryl acetate, Xanthan gum, Cetearyl alcohol, Ethylhexylglycerin, Citrus aurantium amara (Bitter orange) flower oil, Lecithin, Tetrasodium glutamate diacetate, Tocopherol , Ascorbyl palmitate, Citric acid.
Other products from the same collection