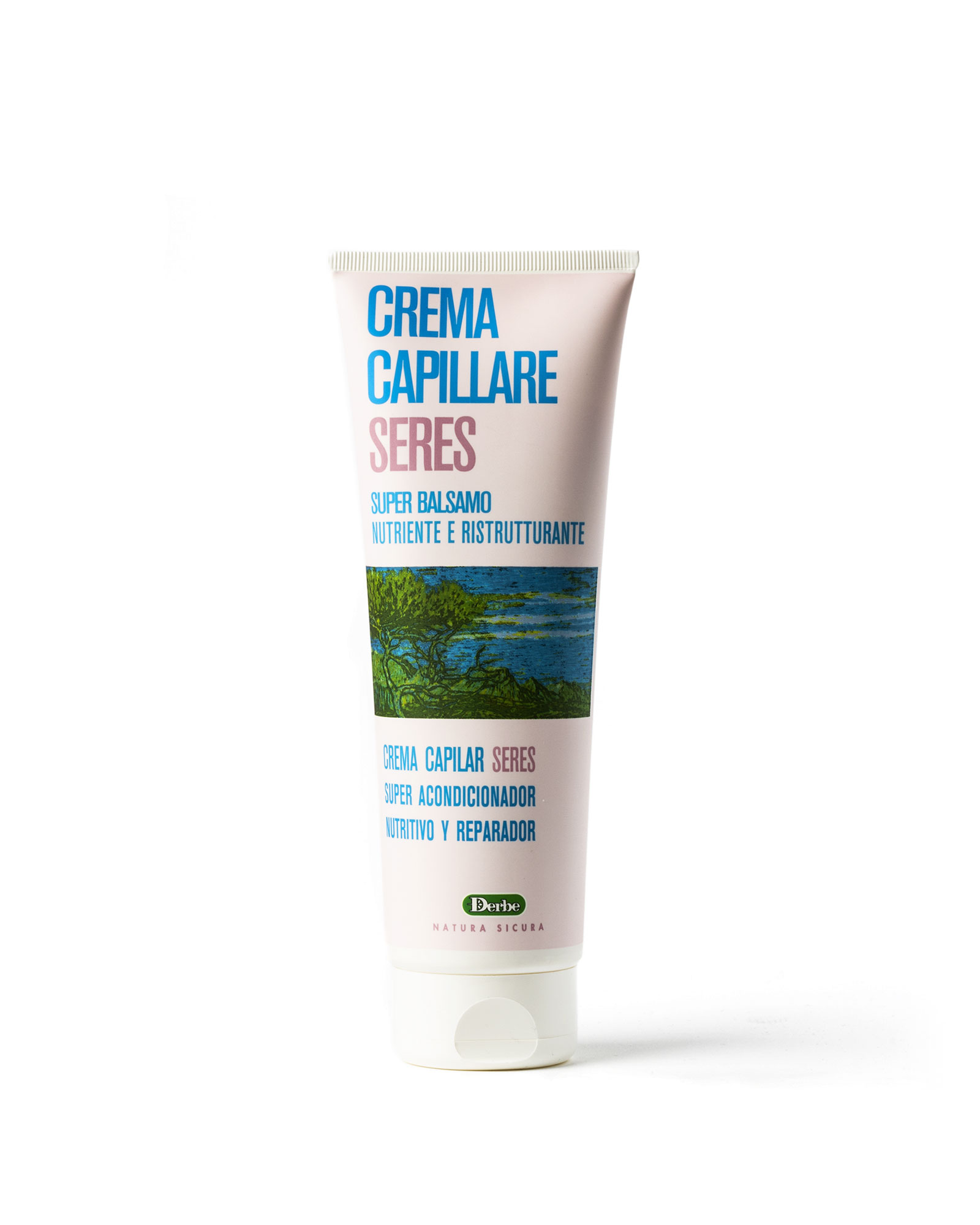 Seres Hair Cream
Super nourishing and restructuring balm
200ml
€ 21.50
In ogni circostanza, in ogni luogo: questo è il preparato unico "indispensabile" per i tuoi capelli! Balsamo nutriente, lucidante, districante, protettivo, deelettrizzante, dona ai capelli fini e cadenti più corpo e forza e più volume alla chioma. Combatte l'impoverimento strutturale dei capelli e lo squilibrio idrolipidico e acido della cute causati da tutte le aggressioni: climatiche, ambientali, chimiche di acconciatura o derivate da detergenze troppo frequenti o aggressive. Può essere utilizzato come maschera impacco per nutrire la cute e donare morbidezza, corpo e vigore ai capelli, come balsamo e districante per rafforzare i capelli, minimizzare le doppie punte, eliminare l'elettricità tipica dei capelli aridi, e come tocco lucidante, in piccola quantità e senza risciacquo per rendere i capelli più docili e pettinabili. Il prodotto è senza astuccio.
Description

SERES dona un tocco di magica primavera ai tuoi capelli! Questa emulsione denominata da sempre: "il balsamo meraviglioso", è il segreto della vitalità della cute e della bellezza dei capelli, è la loro primavera che si rinnova con il suo tocco. Seres è indispensabile per migliorare lo stato idrolipidico e acido della cute, per combattere l'impoverimento strutturale dei capelli lavati con detergenti alcalini, o trattati con liquidi chimici di acconciatura, per donare ai capelli fini e cadenti più corpo e volume.
What's in it
with Rice protein idrolizzate: idratanti e lenitive.
con Olio essenziale di Timo bianco: rinfrescante ed igienizzante
with Vitamina B12: contribuisce all'ossigenazione del bulbo pilifero permettendo una sana costituzione della fibra capillare
Il super balsamo Seres può essere usato:
1) Per rendere tutti i tipi di capelli più corposi, morbidi, serici, lucidi e facilmente pettinabili, ravvivandone il colore: si applica direttamente in piccola quantità sui capelli, bagnati o asciutti, senza risciacquare.
2) Per migliorare i capelli aridi, opachi, sfibrati e renderli più forti, lucidi, difesi, e per annullare la loro elettricità statica: si applica su tutti i capelli bagnati e si risciacqua delicatamente senza massaggiare.
3) Per nutrire la cute, ripristinare il suo equilibrio idrolipidico e la sua acidità e, contemporaneamente, donare sericità, morbidezza, corpo e vigore ai capelli combattendone I'aridità e le doppie punte: si applica su tutta la cute e sui capelli, si massaggia, si lascia agire per almeno dieci minuti e si risciacqua direttamente.
AQUA [WATER], CETEARYL ALCOHOL, CETRIMONIUM CHLORIDE, HYDROGENATED LANOLIN, DIMETHICONE, PARFUM [FRAGRANCE], CITRIC ACID, BENZYL ALCOHOL, PHENOXYETHANOL, LIMONENE, POTASSIUM SORBATE, SODIUM DEHYDROACETATE, CI 19140 [ACID YELLOW 23], THYMOL, CI 16035 [RED 40], CITRAL, BENZYL BENZOATE, TOCOPHEROL.