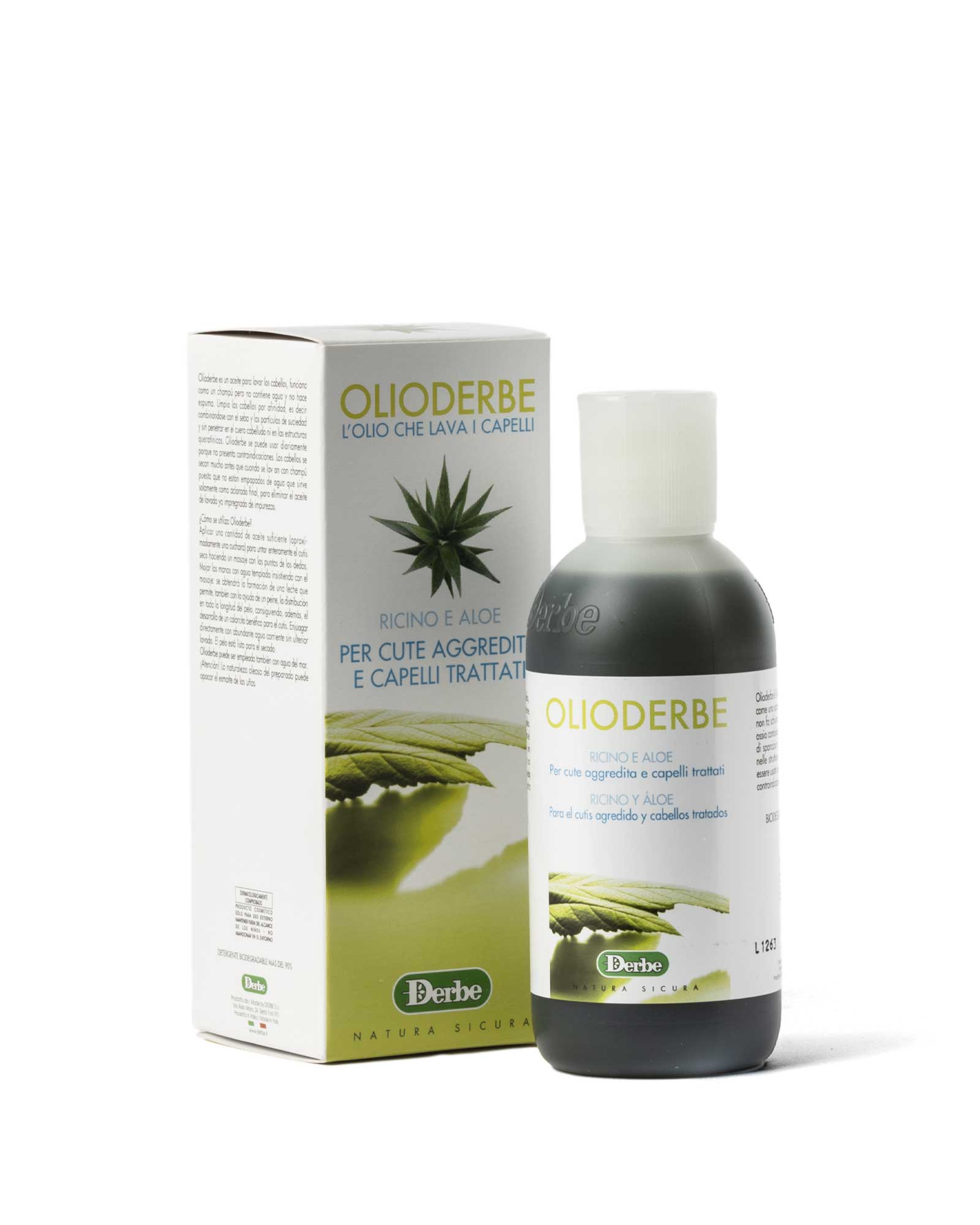 OilDerbe Castor & Aloe
for attacked scalp and treated hair
200ml
€ 16.50
OlioDerbe is a cleansing oil for hair that does not attack the scalp and does not wear out the hair. Contains aloe vera extract which has a soothing and calming action on irritated skin and fights dandruff.
Description

Olioderbe is the oil for washing hair, it works like a shampoo but does not contain water and does not foam. It cleans the hair by affinity, i.e. by combining with the sebum and dirt particles and without penetrating the scalp and keratin structures. Olioderbe can be used daily, as it has no contraindications. Hair dries earlier than when it is washed with shampoo because it is not soaked in water which only serves as a final rinse, to remove the washing oil now impregnated with impurities.
What's in it
With castor extract
With aloe extract
Apply a sufficient amount of oil (about a tablespoon) to grease the entire dry skin by massaging with the fingertips.
Wet your hands with warm water and continue with the massage: you will obtain the formation of a milk which makes it even easier, even with the help of a comb, to distribute the oil along the entire length of the hair, also obtaining a development of beneficial warmth for the skin.
Rinse directly with abundant running water without further washing. The hair is ready for drying. Olioderbe can also be used with sea water.
PEG-4, RICINUS COMMUNIS (CASTOR) SEED OIL, POLYSORBATE 80, PARFUM [FRAGRANCE], GLYCERIN, MENTHOL, AQUA [WATER], CAMPHOR, EUGENOL, THYMUS VULGARIS (THYME) LEAF OIL, CITRAL, CI 75810 [CHLOROPHYLLIN-COPPER COMPLEX ], LIMONENE, COUMARIN, GERANIOL, ALOE BARBADENSIS EXTRACT.