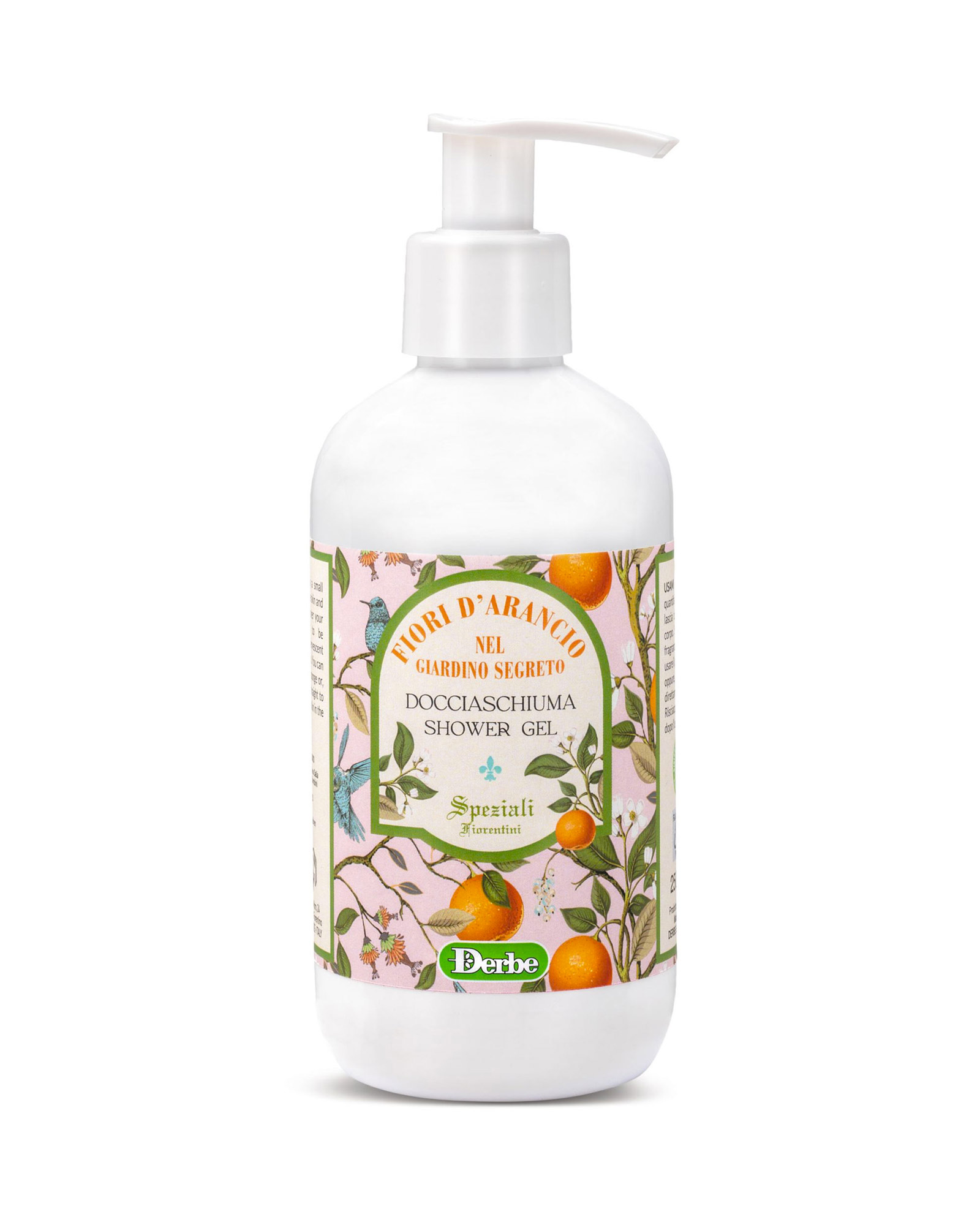 Orange Blossom Shower Gel
In the secret garden
250ML
€ 15.00
Our Orange Blossom Shower Gel is formulated with an exclusive combination of delicate surfactants that effectively cleanses the skin without compromising its natural hydro-lipid balance. This product gives your skin a lasting feeling of softness and smoothness.
Description

The Fiori d'arancio shower gel leaves the skin soft and smooth thanks to an exclusive combination of delicate surfactants, it cleanses the skin deeply while preserving its delicate hydro-lipid balance. The shower gel has a convenient bottle equipped with a dispenser that maintains the characteristics of the product in the best storage conditions and facilitates its dosage.
What's in it
Orange Blossom Drolate:
orange blossom hydrolat is obtained by steam distillation or solvent distillation from bitter orange flower buds. The essence (very rare and expensive) and its hydrolat, enriched with essential oil particles, are obtained from the extraction process. Orange blossom hydrolat is very useful because it has a revitalizing and regenerating action at the cellular level; brightens the complexion and gives the skin a vital appearance.
Tones, soothes, refreshes and regenerates the epidermis. It is particularly suitable for dry skin and is also used for its calming and relaxing properties of the nervous system.
Neroli essential oil:
Neroli essential oil (derived from the distillation of bitter orange flowers Citrus aurantium) is neurotonic (balancing), antiseptic, anti-inflammatory, eudermic and immune system stimulant.
The aromatherapy power of orange blossom is essential for treating anxiety and stress, because they act by giving energy and positivity.
Apply a small amount of shower gel to your skin and let the warm water glide over your body. You will be enveloped by the sparkling fragrance of orange blossom. You can also use the product on a sponge or, for a relaxing bath, directly in the tub water. Rinse skin with running water after use.
Aqua [Water], Coco-betaine, Disodium lauryl sulfosuccinate, Parfum [Fragrance], Citrus aurantium amara (Bitter orange) flower water, Coco-glucoside, Glyceryl oleate, Benzyl alcohol, Ethylhexylglycerin, Potassium olivoyl PCA, Sodium PCA, Tetrasodium glutamate diacetate , Potassium chloride, Potassium sorbate, Sodium benzoate, Citrus aurantium amara (Bitter orange) flower oil.
Other products from the same collection