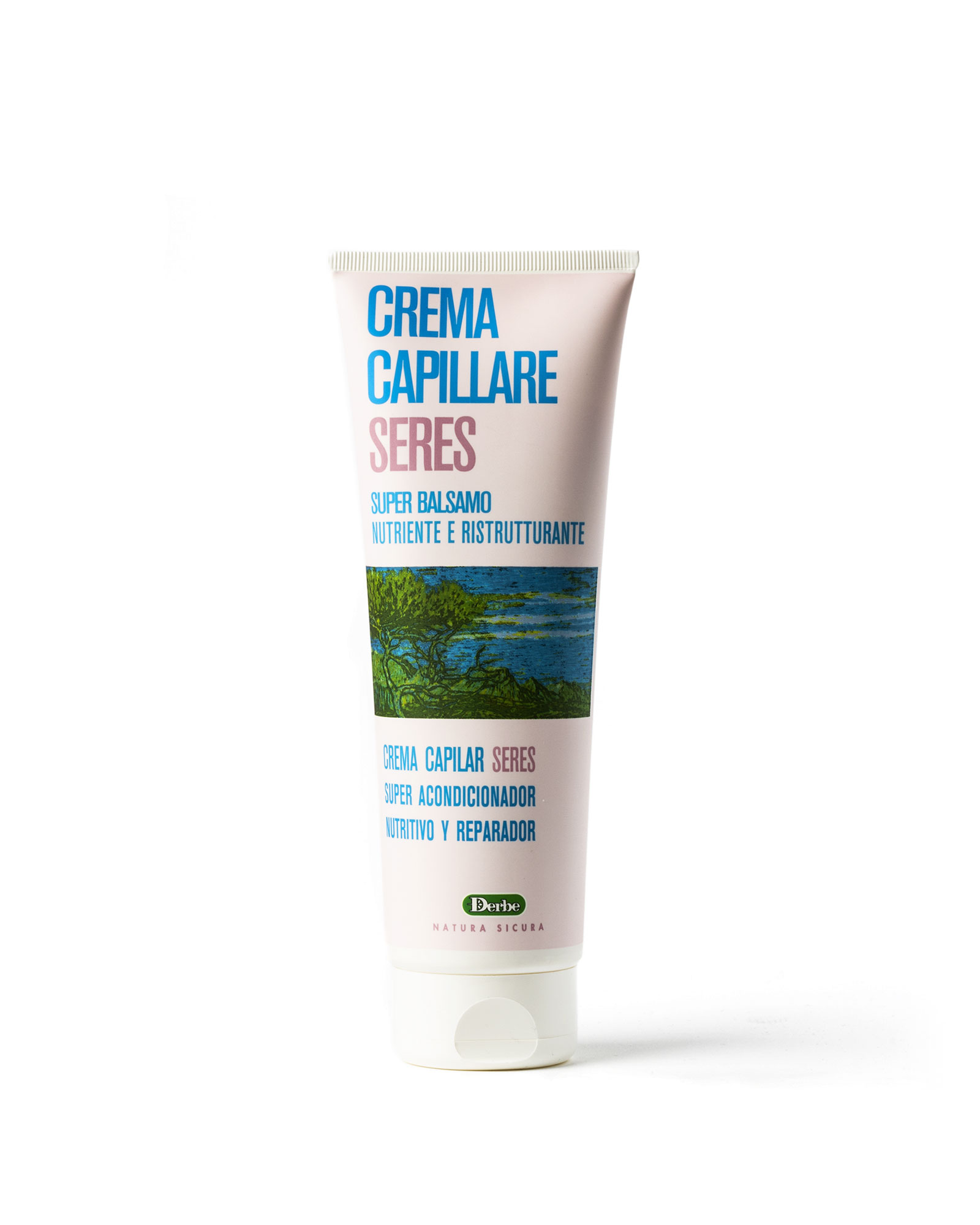 Seres Hair Cream
Super nourishing and restructuring balm
250ml
€ 21.50
In any circumstance, in any place: this is the only "indispensable" product for your hair! Nourishing, polishing, detangling, protective, de-electrifying conditioner, it gives fine and falling hair more body and strength and more volume to the hair. It fights the structural impoverishment of the hair and the hydrolipidic and acid imbalance of the scalp caused by all aggressions: climatic, environmental, hairdressing chemicals or derived from too frequent or aggressive cleansing. It can be used as a compress mask to nourish the scalp and give softness, body and strength to the hair, as a conditioner and detangler to strengthen hair, minimize split ends, eliminate the electricity typical of dry hair, and as a polishing touch, in small quantity and without rinsing to make the hair more docile and manageable. The product is without case.
Description

SERES gives a touch of magical spring to your hair! This emulsion has always been called: "the wonderful balm", is the secret of the vitality of the scalp and the beauty of the hair, it is their spring that is renewed with its touch. Seres is essential to improve the hydrolipidic and acid state of the scalp, to combat the structural impoverishment of hair washed with alkaline detergents, or treated with chemical styling liquids, to give fine and falling hair more body and volume.
What's in it
with Rice protein hydrolysates: moisturizing and soothing.
with essential oil of White thyme: refreshing and sanitizing
with Vitamin B12: contributes to the oxygenation of the hair bulb allowing a healthy constitution of the hair fiber
Seres super balm can be used:
1) To make all types of hair more full-bodied, soft, silky, shiny and easy to comb, reviving the colour: apply a small amount directly to wet or dry hair, without rinsing.
2) To improve dry, dull, brittle hair and make it stronger, shiny, defended, and to eliminate static electricity: apply to all wet hair and rinse gently without massaging.
3) To nourish the scalp, restore its hydrolipidic balance and its acidity and, at the same time, give silkiness, softness, body and vigor to the hair, fighting dryness and split ends: apply to the entire scalp and hair, massage, leave to act for at least ten minutes and rinse directly.
AQUA [WATER], CETEARYL ALCOHOL, CETRIMONIUM CHLORIDE, HYDROGENATED LANOLIN, DIMETHICONE, PARFUM [FRAGRANCE], CITRIC ACID, BENZYL ALCOHOL, PHENOXYETHANOL, LIMONENE, POTASSIUM SORBATE, SODIUM DEHYDROACETATE, CI 19140 [ACID YELLOW 23], THYMOL, CI 160355 RED 40], CITRAL, BENZYL BENZOATE, TOCOPHEROL.