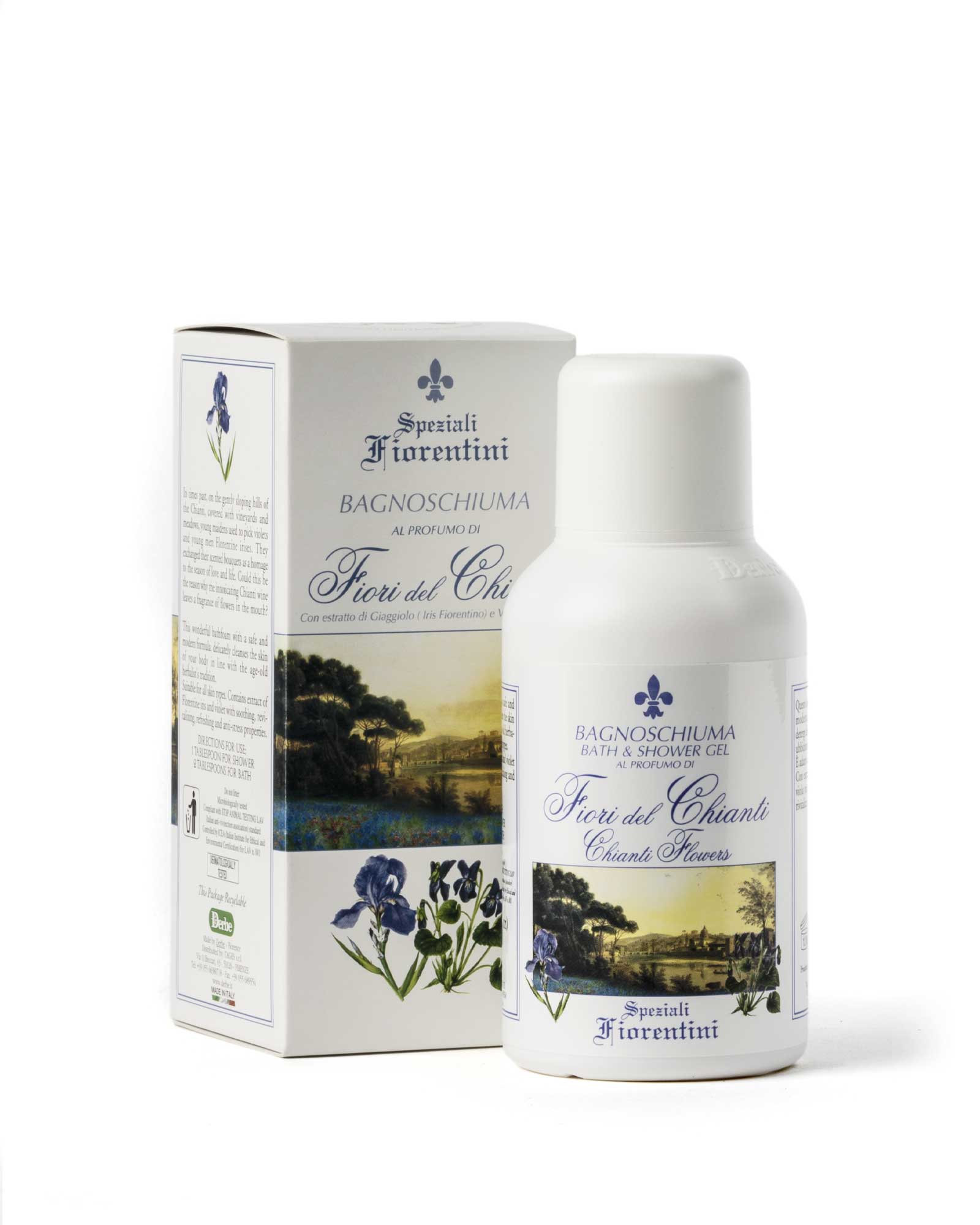 Bubble bath Flowers of Chianti
Suitable for all skin types
250ml
€ 13.50
Fiori del Chianti con estratto di iris (giaggiolo) e viola mammola è una fresca profumazione ispirata alle dolci colline toscane. Linea indicata sia per l'uomo che la donna.
Description

Un tempo sulle dolci colline del Chianti disegnate da vigne e da prati, giovani fanciulle in fiore usavano raccogliere mazzolini di mammole (viola odorata), mentre i giovanotti raccoglievano i giaggioli (iris fiorentino). Si scambiavano il profumato omaggio alla stagione dell'amore e della vita. E per questo che l'inebriante vino del Chianti lascia in bocca il profumo di fiori? Questo splendido bagnoschiuma, nella sua modernità e sicurezza di formulazione, deterge delicatamente tutta la pelle del corpo, ubbidendo all'antica tradizione erboristica. Il bagnoschiuma Fiore del Chianti è adatto ad ogni tipo di pelle. Con estratto di giaggiolo (iris fiorentino) e viola mammola dalle proprietà lenitive, rivitalizzanti, rinfrescanti e anti-stress.
What's in it
With extract of Iris (iris fiorentino) e Viola Mammola with soothing, revitalizing, refreshing and anti-stress properties.
AQUA [WATER], SODIUM COCETH SULFATE, PEG-7 GLYCERYL COCOATE, PARFUM [FRAGRANCE], GLYCOL DISTEARATE, COCAMIDOPROPYL BETAINE, GLYCERIN, SODIUM CHLORIDE, HYDROLYZED RICE PROTEIN, COCO-GLUCOSIDE, GLYCERYl OLEATE, BENZYLALCOHOL, PHENOXYETHANOL, LACTIC ACID, COCAMIDE MEA, LAURETH-10, POTASSIUM SORBATE, SODIUM PHYTATE, TOCOPHEROL, IRIS FIORENTINA ROOT EXTRACT, VIOLA ODORATA FLOWER/LEAF EXTRACT.
Other products from the same collection